Dave Marriner and Jono Fosh have, for the last 30 odd years been two-thirds of the well-known band, Fragment [fragmentlive.com], and have now taken on a new challenge as 2 halves of DaveAndJono.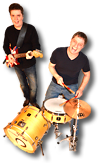 With Fragment, originally formed by Dave, Jono and Tim Alexander at school in Essex, England, they have performed on pretty much every Dutch podium including Ahoy twice [1991/1995], Paradiso, 013 and hundreds of festivals. The band was also the Radio 3fm house band [2002-2003], and has for the last ten years been a sort of house band for the Zwarte Cross festival, where, since 2006 they have also been the closing act on the mega-tent podium. In total they estimate the band must have played more than 4000 concerts, and one day soon they're hoping to get the hang of it.

Dave and Jono's newest project, imaginatively titled "DaveAndJono", will probably be rubbish, but hopefully very entertaining rubbish. They've also made it a part of their mission statement to "make people cry" at their gigs, although it's unclear whether this will be for the right or wrong reasons. Whatever happens, they'll be singing and playing a whole bunch of tunes that they like, as well as taking requests from the public.

Singing/drumming/dodgy guitar-work/smiling: Dave Marriner
Guitar/dodgy singing/less smiling: Jono Fosh